Schedule your Baby Bath Photo Session with J&J Studios!
Baby bath photo sessions are PERFECT FOR EVERY SEASON!
Is there anything more precious than a baby? Is there anything more precious than a bubbly, smiling baby? Is there anything more precious than a Baby Bath Photoshoot? The answer to all 3 questions is NO! I think after viewing the following pictures, you'll have no choice but to agree with me, as well as fall in love with our little baby model, Lilah.
Lilah's parents were looking to capture some special moments of their beautiful daughter in a natural but fun environment. And what could be more appropriate than the great outdoors, some simple props, a splash of water, and a beautiful fun loving baby to make the baby bath photoshoot a loving frolic of this special little girl?
Some photographers have trouble getting such precious children this small to work with them to capture such frolicking fun, but as you can see sweet Lilah is definitely an exception. And in this case, Lilah's parents were wise to select one of the leading photographers in the Philadelphia area, John Ryan & Vanessa, of J&J Studios of Philadelphia. John is an award-winning photographer widely known as a premier wedding photographer in all realms of Pennsylvania, Delaware, New Jersey, and destinations beyond. Despite this notoriety, John & Vanessa is not limited to only wedding photography. John & Vanessa has captured special moments for numerous other memorable events – engagements, proposals, christenings, bar and bats mitzvahs, corporate and sporting events, as well as family and professional headshots and portraits. But John & Vanessa thoroughly enjoys working with these precious little ones as well to help create treasured photographs to allow parents and families to enjoy for many many years to come.
There are inherent challenges with baby shoots. But with just a few changes, J&J Studios has managed as you will see to bring a seasonal flair to this baby photoshoot. They also leveraged their talents to capture on film these special moments. The setting, the lighting, the poses, the props, are all carefully considered in order to capture the perfect moment. And with some minor changes, J&J Studios has transformed the setting to create a seasonal influence for the baby shoot. And again, when working with a delightful but sometimes active and precocious model this can be quite challenging. But being the professionals, they were able to transform this session into a fun experience for all involved, and as you will see with the next set of photographs, some fun and loving memories for Lilah's family.
As you can see this was a very fun collection of photographs that J&J Studios was able to capture of this precious little girl. John & Vanessa builds a bond with their clients instantly regardless of whatever age they may be – young or old. This is an instinctual personality trait that J&J Studios possesses. This is integral in forming the bond needed in order to capture such special moments. John and his team at J&J Studios of Philadelphia work cohesively to support each other while a photoshoot of any genre is being capture.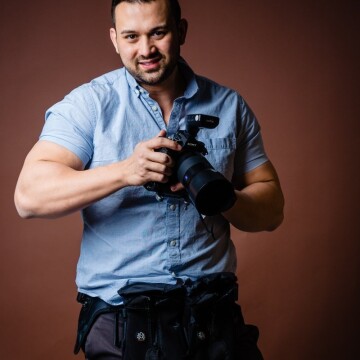 With his arsenal of equipment strapped to his hips like an old-time gunslinger, John chooses his cameras and lenses carefully to ensure when the time comes he is ready to capture the moment when it presents itself. And with a photoshoot built around a precious subject like Lilah that is critical!
If you would like to learn more about John and his team please go to J&J Studios of Philadelphia. You'll be glad you did!